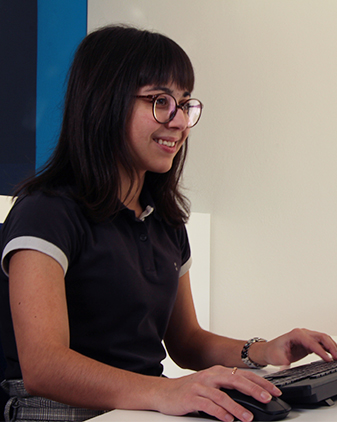 Denise Saolino
Junior Accounting Assistant & Annuities
Languages: French, English,Italian
After graduating from the Gymnase Français in Biel in June 2020, Denise Saolino decided to start an 18-month apprenticeship as a commercial employee in the human resources department of the City of Neuchâtel. Once she had obtained her commercial diploma in February 2022, she spent 4 months in Ireland on an Erasmus+ scholarship. She was able to work as part of a Co-Working group, which enabled her to develop her professional and linguistic skills.
Denise joined the P&TS team in November 2022. She mainly deals with accounting but also supports the annuity process (patent renewals).
Enthusiastic and conscientious by nature, Denise is very committed to everything she does. With her curiosity and thirst for learning, she will begin her degree in Business Administration in September 2023.
Denise enjoys discovering new places in Switzerland and travelling abroad. She also enjoys playing sports and spending time with her friends.
Born in 2001 in Bienne, Switzerland.